Plus a quick guide to cooking this humble, healthy pantry staple
It's time to bust out the beans, especially if you loaded up on them during one of your pandemic food shopping sprees and haven't used them yet. Summer is the ideal time to open up a can of beans for a satisfying no-cook supper. Oh, and don't worry if you stocked up on the dried variety, because even though they take somewhat longer to prepare, they offer even more versatility.
Naturally gluten-free, high-fiber, and vegan, beans are a high-protein ingredient that everyone will love, especially those on a budget. Depending on the variety, they're a nutritional bargain, with a 1/2-cup cooked serving providing at least 20 percent of the daily value (DV) of dietary fiber, folate, and manganese; at least 10 percent DV of protein, potassium, iron, manganese, and copper; and 6 to 8 percent DV of selenium and zinc.
Regular consumption of beans are linked with important health benefits, including lower blood cholesterol levels, lower body weight, higher intakes of dietary fiber, and lower rates of heart disease, hypertension, diabetes, and some types of cancer.
Canned beans are the easiest and most convenient option. Unsalted varieties tend to taste flat, so I use the regular version and just rinse and drain them. Yes, they have more sodium, but they taste much better.
Dried beans, on the other hand, are not only less expensive, but also offer a whole different level of flavor and texture. The trick to cooking dried beans so that they are tender and flavorful is in the upfront preparation: Soaking them overnight speeds up the cooking process and makes them easier to digest. The soaking removes some of the oligosaccharides, a type of resistant starch that cannot be broken down in our intestines and remain undigested until they reach the colon. Once broken down by fermentation, they cause the unpleasant gas we associate with beans.
One cup of dried beans makes 3 cups cooked, so determine how much you'll need in total, then cover them with water and 1 tablespoon of Kosher salt per pound of beans. Soaking in salted water flavors the dried beans from within and helps soften them. After they've soaked for about 12 hours, drain and rinse before using.https://4e0ab67951d16a1b4765984c445b3ba5.safeframe.googlesyndication.com/safeframe/1-0-37/html/container.html
There is also a quick soak method, which is somewhat less effective in reducing the gas-producing oligosaccharides, but saves time. With this method, all you need to do is put the beans in a pot of water on the stove, cover with water by 2 inches, add salt to taste, and bring to a boil. Turn off the heat and let the beans soak for an hour. Drain and rinse them, and you are ready to go with your recipe.
But here's a little secret most people don't know: you actually don't have to soak your beans at all! You'll just have to cook them for an extra hour or two until they're done.
To cook your dried beans, place them in a large pot, cover with fresh water, and bring to a boil. Reduce the heat, cover, and simmer gently until the beans are tender but firm. Most beans will cook in 45 minutes to 2 hours, depending on the variety. For extra flavor, add about 1/4 cup of olive oil and if you like, garlic, onions, and your favorite herbs.
Whether you're using canned or dried beans, herbs, spices, and other aromatics are essential for adding flavor. This Southwest-inspired bean salad dresses up plain black beans with a rich, creamy avocado dressing, amped up with sherry vinegar and fresh herbs, and a medley of crunchy, colorful fresh vegetables. Serve it as a main course salad in lettuce cups, and use the leftovers for lunch in a grab-and-go wrap.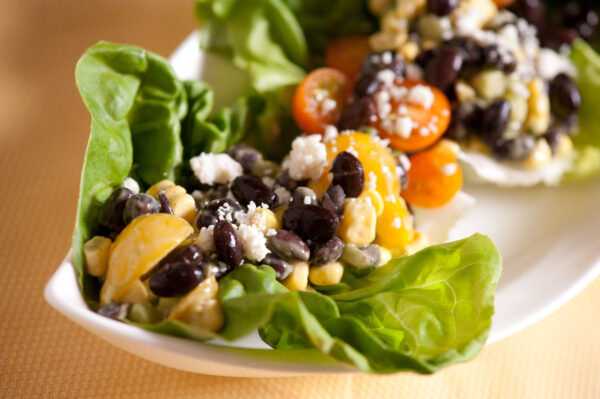 Southwest Black Bean Salad With Avocado and Sherry Vinaigrette
Makes 8 (1-cup) servings
For the Avocado Cider Dressing
1 large avocado, peeled and pitted
1 tablespoon minced shallot
1 garlic clove, minced
1 1/2 tablespoons Dijon mustard
1/4 cup sherry vinegar
1/4 cup extra virgin olive oil
2 tablespoons water, as needed
2 teaspoons tarragon, minced
1 teaspoon Italian parsley, minced
Salt and ground black pepper, to taste
For the Bean Salad
3 cups black beans, cooked or canned, drained
2 cups cherry tomatoes, halved
2 cups uncooked corn kernels
1 cup peeled and finely diced cucumber
1/2 cup finely diced celery
1/2 cup diced scallions
1/4 cup crumbled cotija cheese, optional
1 tablespoon fresh lime juice
1 teaspoon kosher salt
1/2 teaspoon ground black pepper
2 heads Bibb leaf lettuce, leaves separated
2 avocados, halved and sliced
For the Avocado Cider Dressing
In a blender, combine the avocado, shallots, garlic, Dijon, and sherry vinegar and process until smooth. With the motor running, slowly add the oil until thickened and incorporated. Thin with water, if necessary, and then stir in the minced tarragon and parsley. Season to taste with salt and pepper.
For the Salad
Combine beans, tomatoes, corn, cucumber, celery, scallions, cotija cheese (if using), and lime juice. Add the dressing and gently stir to coat. Cover and refrigerate at least 2 hours before serving.
To serve, place a Bibb leaf in a chilled bowl and top with some of the salad, and drizzle extra dressing, if desired. Garnish with sliced avocado.
Recipe developed by The Culinary Institute of America as an industry service to the Northarvest Bean Growers Association.
Regina Ragone is a registered dietitian nutritionist with extensive experience creating better-for-you recipes for savvy cooks and beginners in the kitchen alike.