Peak-season berries, ham and cheese, salted maple walnuts—this salad's got it all
I've started visiting my favorite local farmer's market again, meaning pounds and pounds of fresh, beautiful summer produce are always on hand, making delicious salads extremely easy to throw together.
Hearty entrée salads of all kinds have become a go-to for lunches and dinners lately—which is impressive, because my husband George is typically the kind of guy who thinks a salad is only meant to be a side dish.
But salads like this one pass George's entrée test. It's packed with so many delicious ingredients that every single bite is a little different, depending on what you scoop up.
One bite might be sweet and salty, if you grab a cherry and a piece of ham, or a salted maple-caramel walnut. The next might be a little funky, if you scoop up some blue cheese. And the next might be crisp, cool, or creamy, if you get lettuce, cucumber, or a bit of avocado. It's a mystery box, this salad!
Meat, cheese, gorgeous seasonal produce—even my "meat and potatoes"-loving husband can see that this is a salad worthy of an entire meal.
Breaking It Down
First, let's discuss the salted maple walnuts, because they are special. When I make salads, I try to keep refined sugar out of the picture to avoid a sugar crash later, so I turned to maple syrup for making these candied nuts.
The walnuts, maple syrup, and butter bubble together for several minutes on the stovetop, and are then poured onto parchment paper to cool, get a salty sprinkle, and harden. They are best if allowed to cool for at least an hour, so remember to make these ahead, not right at lunchtime.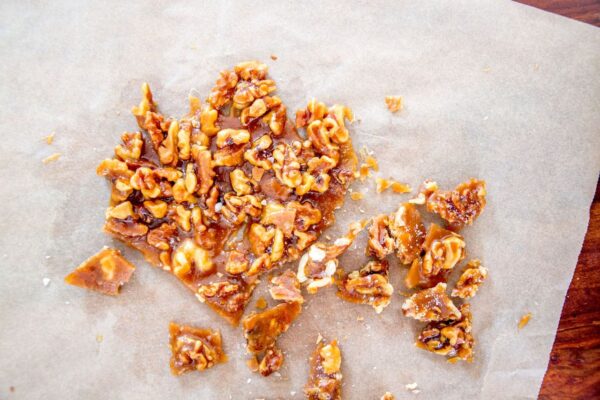 Does that sound like too much cooking for you today? You can easily pick up store-bought candied walnuts instead. But if you have a little extra time, and your kitchen isn't so swelteringly hot that the idea of turning on the stove makes you want to weep, you should try these out!
Next, let's talk about cheese. The salty, funky blue cheese contrasts so beautifully with the sweet summer berries, but if you aren't into blue cheese, goat cheese or feta are great substitutions. And the cucumbers and avocado—they add so much crunch and creaminess!
I love using deli ham in salads, because it has so much flavor but requires zero cooking. I'm not sure why deli meat gets relegated to lunchtime hours, but I'm here to free the deli meat. Sliced ham for dinner!
I could have used prosciutto—I had it in my fridge, and a salad with prosciutto definitely looks fancier—but ham is about half as expensive, and frankly, even more delicious in many scenarios. I love prosciutto on a pizza, but on a salad? It gets kind of chewy and gummy. Ham, though, never does me wrong.
Not a ham fan? Use absolutely whatever meat you want, or even none at all. Chickpeas marinated in the dressing for 30 minutes would be a perfect protein swap for vegetarians.
Speaking of the dressing—this maple vinaigrette will make you want to eat salads for breakfast, lunch, and dinner. I would know, because it's what made me and George kick our quarantine-induced pasta addiction and start truly looking forward to eating salads. It's a sweeter dressing, but still has plenty of tang from apple cider vinegar, and creaminess from mustard and olive oil.
Please make this salad immediately—everything is in season right now! Plus, I've listed plenty of substitutions to help you customize the recipe based on what you're seeing at your market.
Summer Berry Salad With Ham, Salted Maple Walnuts, and Maple Vinaigrette
Serves 2
For the salted maple walnuts:
1 cup walnuts
1/4 cup maple syrup
1 tablespoon unsalted butter
1/2 teaspoon flaky sea salt
For the maple vinaigrette:
1/4 cup apple cider vinegar
1/4 cup extra-virgin olive oil
1 tablespoon Dijon mustard
1 tablespoon maple syrup
Pinch of salt
To assemble:
3 cups little gem leaves or spring greens
Kosher salt and freshly ground black pepper
4 ounces sliced deli ham (I like Black Forest, but anything works)
4 ounces (about 1 cup) sliced strawberries
4 ounces (about 1 cup) pitted, halved cherries
2 ounces (about 1/2 cup) blue cheese, crumbled
1 small avocado, cubed
1/4 English cucumber, halved vertically then sliced into half moons
1/4 cup small fresh mint leaves
To make the walnuts: Line a sheet pan or plate with a piece of parchment paper. Place the walnuts, maple syrup, and butter in a large nonstick skillet and warm over medium heat. Stir often, until the caramel coating has thickened and is coating the nuts, 4–7 minutes.
Stir in 1/4 teaspoon flaky sea salt, then transfer the nuts to the parchment paper in a single layer and sprinkle the remaining 1/4 teaspoon flaky sea salt over top. To get nice and crunchy, with no chewy bite, the nuts need to cool for at least a full hour, preferably overnight, uncovered. You can speed up this process by throwing them in the freezer.
Break the nuts apart and set aside half of them to use in the salad. Store the rest in an airtight Tupperware at room temperature for up to 2 weeks.
To make the vinaigrette: Add all ingredients to a jar, seal, and shake vigorously to combine. You can also whisk everything together in a bowl, but using a jar makes storing leftovers a breeze—without getting another dish dirty.
To build the salad: Place the lettuce in a large bowl or on a shallow platter. Sprinkle with salt and pepper and toss to season the leaves. Seasoning your greens is crucial to a delicious salad!
Roll up the slices of ham, and cut the rolls into 1/4-inch thick pieces to make fun little spirals to add to the greens. Or, just chop up the ham and throw it in there.
Add the prepared walnuts, strawberries, cherries, crumbled blue cheese, avocado, cucumber, and mint leaves to the bowl and toss gently to combine.
Pour in 2 tablespoons maple vinaigrette and toss to coat all ingredients. Add more dressing as desired, tossing and tasting as you go.
Recipe Notes
Want to make this salad as easy as possible? Use a store-bought poppy seed dressing and candied nuts. All you'll need to do is chop and assemble!
Ingredient Substitutions
Walnuts: Absolutely any nuts you have. Pecans would be particularly good!
Maple syrup: Brown sugar.
Butter: Omit; the nuts will still candy without it.
Flaky salt: Kosher salt.
Apple cider vinegar: Any vinegar. Balsamic would be great here.
Extra virgin olive oil: Any neutral flavored oil.
Dijon mustard: This is important for thickening your dressing. If you don't have it, swap in tahini or 1 egg yolk, but whisk it, don't just shake it!
Salad greens: Anything tender and crisp is perfect here. Kale would be a little too tough.
Ham: Prosciutto, chicken, turkey, grilled shrimp, chickpeas. Or, feel free to omit to make this a side salad for a meat entree.
Strawberries and cherries: Any summery fruit. Peaches! Apricots! Blueberries!
Blue cheese: Goat cheese, feta.
Avocado: Omit; there's really no substitute for avocado!
Cucumber: Fennel, thinly sliced celery, thinly sliced carrots, raw corn kernels. Anything crunchy and fresh.
Mint leaves: Fresh basil or parsley.
Caroline Chambers is a recipe developer, food writer, and author of "Just Married: A Cookbook for Newlyweds." She currently lives in Carmel Valley, Calif., with her husband, George, and son, Mattis. Follow her on Instagram for cooking tips and snippets from her life in Northern California. @carochambers