Use this basic template to create your own flavor combos—then kick back and let your worries melt away.
In the steady stream of hot, humid days Pennsylvania summers bring us, my daughters and I have established a routine. We play in the shade until lunchtime, and eat something that requires no heat—cucumber and cream cheese sandwiches, watermelon, carrots and hummus. We pack our stroller high with towels and sunscreen and head to our community pool the moment it opens. After we've returned, soaking wet, sun-kissed, and wrapped up in towels, comes the best part of the day: popsicles on the back porch.
Of all the moments of motherhood I want to remember, the image of my daughters enjoying popsicles outside has to be at the top. At one and three, they recline on the outdoor sofas, kicking their legs in excitement as juice runs down their chins and onto their swimsuits. Their only care in the world is to finish their popsicles before they melt. They look like the essence of childhood.
I have discovered this summer that there is something about an ice pop that brings out the child in every one of us. Back in May, when my daughters began pointing out Popsicles at the grocery store, I thought I was beyond them. Their bright packaging—yellow and blue, splattered with cartoon characters—makes them feel like a child's treat. I thought I had moved onto more sophisticated foods, like cold brew coffee or flourless chocolate torte.
Then, after I succumbed and bought my daughters a box, my 3-year-old asked me to have one with her after an afternoon at the pool. As I reclined next to her on the porch, taking in the cherry-flavored syrup that still tastes exactly like my own childhood, I remembered again how good it feels to put my feet up, to sit in the sun with a cold snack and allow my worries to be reduced to finishing a popsicle before it melts.
I decided that if popsicles were going to become a regular treat in my household, it would be fun for me and the girls and to put our own spin on them. I wanted to make them both child- and adult-friendly, something everyone in our house could look forward to and enjoy. I ordered a set of popsicle molds from Amazon and began experimenting.
A Pop for Every Palate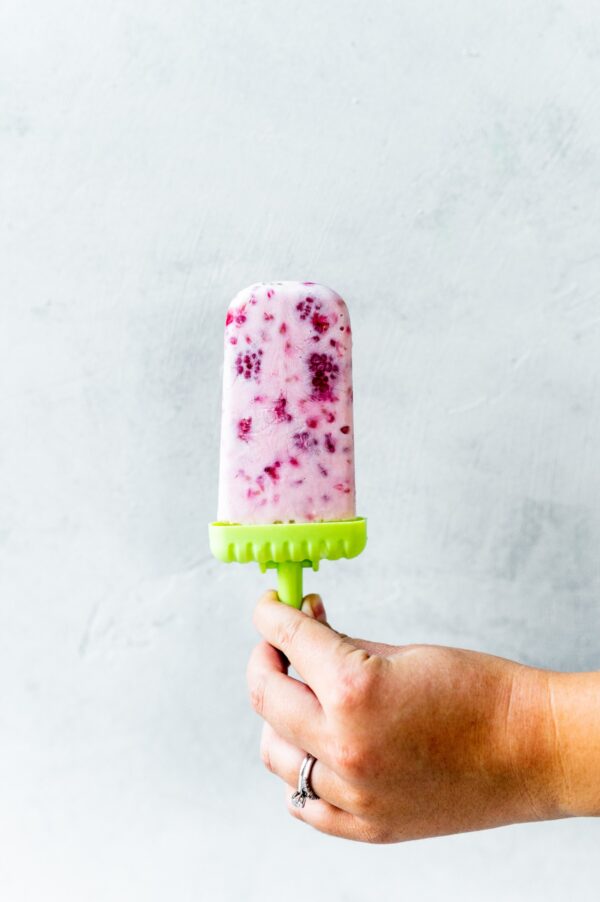 As I researched, I noticed that many at-home recipes involve only three ingredients: yogurt, honey, and fruit. Using that as our blueprint, this summer has become a grand experiment of making popsicles out of whatever we can find at the grocery store or pick from our garden.
June, my oldest daughter, loves pink, so we started with raspberries. I used whole-milk Greek yogurt, and honey instead of sugar. My garden produces an excess of mint, so we mixed some of that in, too. We simply blended all of the ingredients together, poured the batter into the molds, and put them in the freezer. The result was a cold, creamy sweet treat we all looked forward to—prepared in less time than it takes to make a cup of coffee.
Next, we tried a blueberry version, per request of my husband. We decided to add lemon juice and whole sprigs of thyme to this one for flavor, and the combination was delicious—and beautiful to look at.
I am a chocolate fanatic, so next, we made a chocolate peanut butter version for myself.
We've done peach-oregano, lemon-lavender, and a "mixed berry blast." June is convinced we could make a version out of the tomatoes ripening in our garden—thus far I have not been brave enough to try.
The best part about our experiments has been that now all four of us are lounging on the patio furniture enjoying a snack together in the heat of the afternoon. My husband comes up from his basement at-home office to join the girls and me outside. For a few minutes every day, the four of us have nothing else to do other than to laze in the sun and finish our popsicles before they melt.
For a few minutes, we have all the responsibility of children again—and it turns out that's something you should never outgrow.
Homemade Popsicles
Makes 8 ice pops
2 cups whole-milk Greek yogurt
1/4 cup honey
Pinch of salt
1 cup fruit and other add-ins of choice (see variations below)
Mix all the ingredients in a blender until smooth. (Or, for more of a marbled effect, mix the yogurt and honey together first, and then fold in the fruit—whole or pureed—by hand.)
Pour into popsicle molds and freeze for at least 4 hours.
Run the molds under warm water for 10 seconds and gently pull the ice pops out. Enjoy!
Variations
Raspberry Mint: Add 1 cup raspberries and 1/4 cup fresh mint, chopped.
Lemon Thyme Blueberry: Add the juice of 1/2 small lemon, the zest of one lemon, 1 cup blueberries, and the leaves from 3 to 4 sprigs of fresh thyme. Or keep the sprigs whole and distribute them among the popsicle molds before pouring in the blended mixture, for a fancier presentation.
Chocolate Peanut Butter: Add 2 tablespoons cocoa powder, 2 tablespoons peanut butter, and 1 cup banana (optional).
Rachael Dymski is an author, florist, and mom to two little girls. She is currently writing a novel about the German occupation of the Channel Islands and blogs on her website, RachaelDymski.com