Marked by fresh flavors and a legacy of resourcefulness, the cuisine is more accessible for home cooks than ever
When Andrea Nguyen and her family arrived in America in 1975, there was no fish sauce at their neighborhood Albertsons. None to make nuoc cham dipping sauce, or spike noodle soups, or complete the slew of other savory Vietnamese dishes that rely on its umami-packed funk. And for months, they had no car to make the hour and a half drive to Los Angeles' Chinatown and its Asian markets, where such rare treasures were stocked. So her mother made do with La Choy soy sauce.ADVERTISING
With no jasmine rice, that fragrant staple, she dubbed Texas long-grain a worthy substitute. For delicate steamed rice rolls, traditionally fashioned from rice flour, Swans Down cake flour did the trick instead.
"She was always like, 'What can we use? What can we co-opt from the American supermarket?'" Nguyen recalled. Supplementing universal produce and pantry staples with clever substitutes and workarounds for Vietnamese specialties, she preserved the food traditions of their roots in their new American home. Spaghetti dinners came with a side of rice.
Such is the spirit of Vietnamese cooking, Nguyen said, embodied by generations of curious and resourceful cooks who lived through colonial occupation and war, and immigrants, like herself and her parents, who adapted to unfamiliar surroundings to recreate familiar bits of home.
Nguyen brings that spirit to her new cookbook, "Vietnamese Food Any Day." It's the latest of several cookbooks from the Vietnam-born, California-based author and food writer, cooking teacher, and long-time ambassador of Vietnamese cuisine, including the comprehensive "Into the Vietnamese Kitchen," published in 2006, and the more recent "The Pho Cookbook," winner of a 2018 James Beard Award.
In this book, she does something different: "I specifically help people grocery shop."
That is, she helps people grocery shop for the building blocks of Vietnamese food, but at mainstream market chains like Kroger, Whole Foods, Trader Joe's, and Publix—no Asian-market shopping necessary—and bring the flavors and dishes of the cuisine into their home kitchens. The recipes are all based on ingredients easily sourced from such stores, and most come together in under an hour.
"This book is really about opening the door, welcoming people in to make Vietnamese food," Nguyen said. "The food isn't mysterious; it's not exotic. People can totally make it and be part of the story."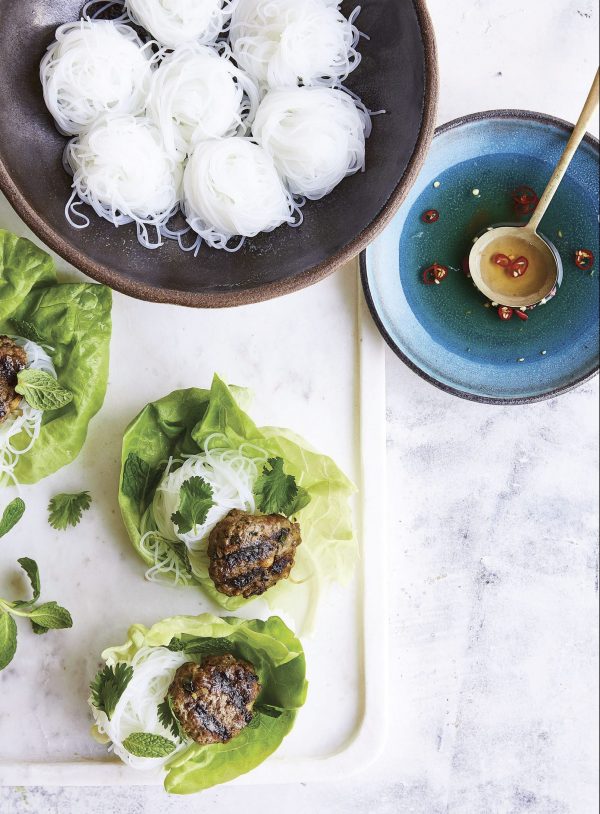 Foundations
Accessibility is a common thread, but Nguyen is adamant about not "dumbing down" her recipes—"that would be doing a disservice to who I am and the cuisine that I'm representing," she said.
To capture her approach to demystifying and streamlining Vietnamese food, without compromising its integrity, she summons a Vietnamese term: "kheo," meaning "smart" or "adroit." When used to describe cooking, the term implies "food that's been thoughtfully and skillfully prepared with intention and a grounding in the fundamentals," Nguyen writes.
Those fundamentals are key. They encompass an understanding of certain foundational flavors, like the blending of savory and sweet and the interplay between heady umami and bright, zippy acid; and of certain foundational techniques, like coaxing water, fish sauce, and onions into a simple base for everyday soups; or simmering meats and fish in bittersweet Vietnamese caramel, nuoc mau, to a glossy, savory-sweet finish.
"My parents held onto those foundations when they came here," Nguyen said. Her mother took with her a handwritten recipe book; other refugees brought over cookbooks and photocopied them to share. Nguyen still has binders full of photocopied recipes.
"People brought things because they were like, 'We don't want to lose our heritage. We don't know what it's going to be like over there. We can't bring many belongings, but we can bring paper,'" Nguyen said.
On the weekends, when phone rates would drop, her parents would "be on the phone for hours with their friends, talking, gossiping, swapping … tips: 'Where are you? What are you up to? What are you cooking?'" They'd share their workarounds and co-opted discoveries, customizing and improvising to keep their heritage alive.
Vietnamese food is thus inherently versatile. There's a basic "Vietnamese blueprint" for each dish, from banh mi to bun (rice noodle bowls), that makes it taste "wholly Vietnamese," Nguyen said. From there, specific proteins, vegetables, toppings, and even dipping sauces can vary by the individual cook's needs and desires.
"Cooks innovate, and Vietnamese food has always been about innovation," Nguyen said. "But you can't build anything without a solid foundation, because no one's going to know where things started. And so, you need to set those roots."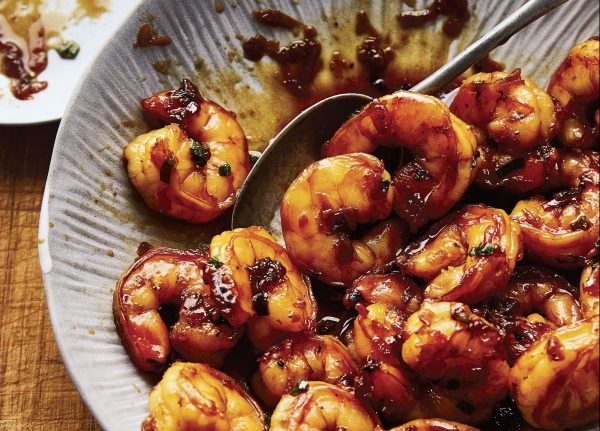 Building a Vietnamese Food Pantry
Much like her parents taught her, Nguyen teaches home cooks to be resourceful and use what they have readily available—which, these days, is no small selection.
American supermarkets have come a long way. According to the Food Marketing Institute trade group, their average inventory has diversified from 9,000 items in 1975 to 40,000 today, Nguyen writes. It's an exciting time to be cooking and eating.
For staples like high-quality fish sauce, Chaokoh coconut milk, and Sun Brand Madras-style curry powder, "we used to have to go to an Asian market," Nguyen said. "But nowadays, because there is so much awareness about Asian food and global flavors, that Asian section at the supermarket, if you go to a good one, that is amazing."
For the uninitiated, though, that variety can also be daunting—a blur of foreign labels more likely to lead to decision paralysis than a newly stocked pantry. That's where Nguyen comes in: her book's extensive shopping guide navigates the reader through seas of soy sauce bottles and rice paper packages to track down the best.
And if certain ingredients still have yet to make it to the shelves, there's no shame in finding work-arounds: rice spaghetti can mimic the traditional thick, round "bun," or vermicelli noodles; pomegranate molasses and juice are Nguyen's go-to subs for tangy-sweet tamarind; anchovy paste lends a similar heady funk as fermented shrimp sauce to dishes like bun bo hue and its multi-layered spicy, salty, sour broth.
Nguyen offers another word of advice: "[If] you need something at a grocery store, you go and you ask."
Her parents taught her as much. They also taught her to explore the resources around her, as they would on family trips to recon their local markets; to ask the butcher to grind up a hunk of pork shoulder on the spot, if she wanted the freshest ground meat; to grow herbs and other plants at home, as her father did, "for fun and for freshness."
"Those are like life skills. All of that really stuck with me," Nguyen said. Such experiences formed the roots of her "very resourceful approach to finding ingredients," one she invites other home cooks to adapt and hone.
She proves that Vietnamese food at home is more accessible than ever. You just need the right foundations, a bit of courage, and a healthy dose of make-do spirit.
RECIPE: Shrimp in Coconut Caramel Sauce
RECIPE: Curry-Scented Grilled Beef Lettuce Wraps
https://www.theepochtimes.com/the-spirit-of-vietnamese-cooking_2794669.html