If you asked 10 Cantonese people whether they like to eat dry stir-fried beef chow fun, nine would profess their love for it. Made with slices of tender beef and slippery, slightly chewy flat rice noodles (hor fun), it's a popular dish that's eaten everywhere from grandmas' dining tables to high-end restaurants.
As with people, every dish tells a story.
According to legend, the dish was born during the Second Sino–Japanese War in 1938, while the Japanese army was invading Guangzhou, China.
Xu Bin was a Chinese businessman who sold porridge and noodles at his food stall on Yangxiang Road in Guangzhou.
Originally, the Cantonese made stir-fried beef chow fun with a sauce thickened with cornstarch. One day, Xu Bin ran out of cornstarch. A Japanese commander arrived at the food stall and ordered the chow fun.
Xu Bin's father, Xu Bocao, told the commander that they ran out of chow fun. The commander did not believe Xu Baocao and thought that they were not willing to serve him, so he pulled out his gun and threatened to kill the father.
Xu Bin immediately went back to the kitchen and cooked the chow fun without the sauce for the commander. Surprisingly, the commander enjoyed it so much that he went back every evening and ordered the same dish.
Since cornstarch was not easy to find back in those days, Xu Bin started to serve this chow fun at his food stall, and he named it dry stir-fried beef chow fun. From then on, the noodle dish spread and became more and more popular.
My love for the dish started when I was just a few years old. My mother took me with her on a business trip to Hong Kong, and while there, I ended up feeling under the weather and didn't want to eat anything.
My mother's colleague ordered the chow fun for me. At first glance, I didn't think that I would like it. I hesitantly put one tiny bite into my mouth, to try out the taste. I looked up at my mother's colleague like she was a genius—and immediately dug into the pile of noodles.
The next thing anyone noticed was my empty plate. Since then, chow fun has become one of my to-go dishes whenever I eat Cantonese food.
With this recipe, it's easy to recreate the restaurant dish at home. The noodles have a "Q texture" to them—kind of like Asian noodles' answer to pasta's al dente: chewy and yet soft and smooth. The beef, meanwhile, is tender and juicy. The entire dish is highlighted by a lightly charred aroma, that characteristic "wok hei" flavor of Cantonese cooking. I hope you enjoy this recipe!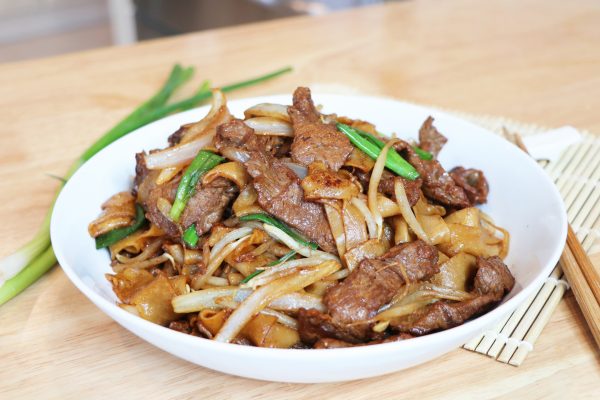 Dry Stir-Fried Beef Chow Fun
Prep Time: 20 minutes
Cook Time: 10 minutes
Serves 2
For the beef:
1 pound flat iron steak, thinly sliced against the grain
1/2 egg white, beaten
1 tablespoon soy sauce
Pinch white pepper
1 teaspoon cornstarch, with 2 tablespoons water mixed until smooth
1 tablespoon vegetable oil
For the sauce:
2 tablespoons soy sauce
1 tablespoon dark soy sauce
1 tablespoon oyster sauce
Pinch white pepper
Pinch sugar
For the noodles:
1 package fresh hor fun noodles
3 tablespoons vegetable oil, separated
1/4 onion, sliced
1 bunch scallions, white parts chopped into 1/2-inch pieces, green parts chopped into 2-inch pieces
1 cup bean sprouts
Season the thinly sliced steak meat with the egg white, soy sauce, white pepper, and cornstarch slurry. Mix until combined. Pour in 1 tablespoon of vegetable oil and mix well. Marinate for 15 minutes.
Meanwhile, mix together the ingredients for the sauce until combined. Set aside.
Microwave the fresh hor fun noodles for 1 minute to soften, and carefully separate the noodles. If they are still hard, microwave them for another minute and separate the noodles again. Cool for 5 minutes.
In a pan, add 1 tablespoon of oil, transfer the noodles to the pan, and pan fry on high heat until the aroma comes out, about 2 minutes. Transfer to a plate and set aside.
Add another tablespoon of oil to the pan, along with the marinated beef, and cook on high heat until medium well. Remove the beef and drain any excess oil.
In the same pan, add the remaining tablespoon of oil and the sliced onion, and cook until aromatic. Add the white parts of scallions and cook until aromatic. Add the bean sprouts, hor fun, beef slices, and sauce. Quickly stir fry on high heat until well combined, but be careful not to break the noodles. Lastly, add the green parts of the scallions.
Serve.
Recipe by CiCi Li.
CiCi Li is the producer and presenter of "CiCi's Food Paradise" on NTD Television. Join her in discovering the world of Asian home cooking at CiCiLi.tv
https://www.theepochtimes.com/30-minute-beef-chow-fun-a-cantonese-classic-at-home_2810957.html