Alana Kysar brings Hawaii's colorful culinary culture, shaped by decades of immigrant influence, to the home cook
The plate lunch is the Aloha State's most iconic dish: a combination of a protein—or multiple, in the case of a mixed plate—a scoop or two of steamed white rice; another of creamy macaroni salad; and, occasionally, a vegetable side, all served typically on a sectioned plate or container.
It's a fast and ubiquitous meal, the fuel of locals "from doctors to surfers to your aunty down the street," Kysar writes in her new cookbook, "Aloha Kitchen: Recipes From Hawai'i." And as indiscriminately as it feeds the varied people of the islands, it also represents them.
Glance at the menu of any plate lunch spot, and you'll find a roster of the varied influences that have shaped Hawai'i's food culture: Japanese chicken katsu, Filipino chicken adobo, Korean kalbi, Chinese char siu pork. A peek into history offers an explanation: Though the exact origins of the plate lunch are unclear, it can likely be traced to the lunchboxes that immigrant plantation laborers, who arrived in waves during Hawai'i's sugar boom, filled with the foods of their homelands—Japan, the Philippines, Korea, China.
Today, the plate lunch remains a beloved symbol of the multicultural quilt that is Hawai'i's local food—and Hawai'i itself. Much like the plate lunch, the islands' culinary culture can't be simplified to any one individual part. "It's the combination that makes it what it is," Kysar said.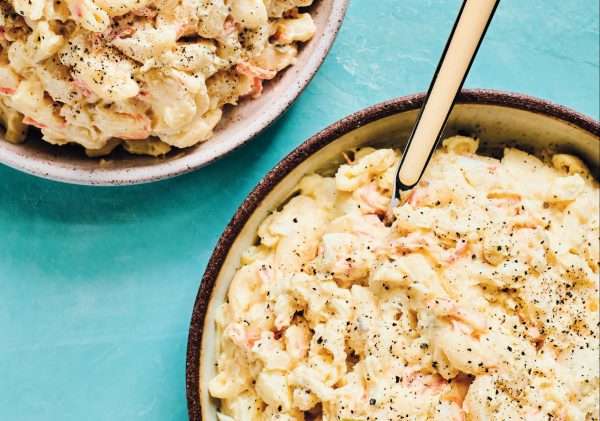 Setting the Record Straight
That combination is what Kysar, a Los Angeles-based, Maui-born-and-raised food blogger turned cookbook author, hopes to capture in her book. But first, there's an important distinction to be made: All of it is Hawai'i food, but not all of it is Hawaiian food.
Before becoming the 50th state of the United States, the Kingdom of Hawai'i was a sovereign country, established by the islands' original Polynesian inhabitants. "Hawaiian" refers specifically to their descendants—so while growing up in California might make you Californian, simply living in Hawai'i, without the right ancestry, doesn't make you Hawaiian.
Kysar offers herself as an example: Between her northwestern European father and Japanese-American mother, she has no Hawaiian ancestry. So despite growing up in Maui, strictly speaking, she can't call herself Hawaiian.
The same goes for food. Hawaiian food refers specifically, and only, to that of the islands' traditional Polynesian culture—just one aspect of what comprises local Hawai'i food today. It's a nuanced distinction that Kysar concedes can be confusing, but is important nonetheless.
As for a perhaps more easily dismantled misconception she wants to knock: "It's not just all about pineapple," she said with a laugh.
A History Told in Food
What, then, is local Hawai'i food?
"To understand how all-encompassing Hawai'i's food culture is, you first have to trace your way through Hawai'i's history," Kysar writes.
It started with Polynesian wayfinders, the first to settle on the islands as early as 300 A.D. They brought in their voyaging canoes the makings of their cuisine: chickens, pig, dogs, and more than 24 new plant species—later to be known as canoe plants—including taro, coconut, breadfruit, and sugarcane.
With these they made staples like poi, taro baked tender and then pounded with water into a starchy paste or viscous liquid; and celebration foods like kalua pig, a whole hog slow-roasted in an imu (an underground earthen oven) until smoky and fall-apart tender.
Centuries later, in 1778, the arrival of the British marked the first European contact with the isolated island chain, bringing pumpkins and onions and gifts of cattle to the king. Americans followed in the 1800s and soon established the first sugar plantation.
As sugar production exploded, the sudden demand for labor ushered in a new wave of immigration: contract workers from across the Pacific, who came to work the plantations and settled permanently thereafter. They brought with them the ingredients and culinary traditions of their homelands, to recreate familiar foods in unfamiliar new surrounds.
First came the Chinese, who turned vacant taro patches into rice paddies and introduced Cantonese staples like chow fun, char siu, and a variety of dim sum delights. The Japanese brought seeds for crops like daikon radish and kabocha, along with bentos, pickled vegetables, and teriyaki. Hawai'i's famed shave ice has roots in Japanese kakigori.
With the Portuguese came their love for pork and chili peppers, and fluffy-sweet pao doce (sweet bread) and rich malasadas (sugar-dusted yeast doughnuts). Koreans brought kimchee and kalbi; Filipinos pork adobo and other dishes laced with vinegar and garlic.
With each new wave came a new cuisine "introduced and folded into the local food culture," Kysar writes. The resulting "delicious amalgamation" is a story of Hawai'i in food.
"In some ways," Kysar continues, "to understand local Hawai'i food is to understand Hawai'i itself."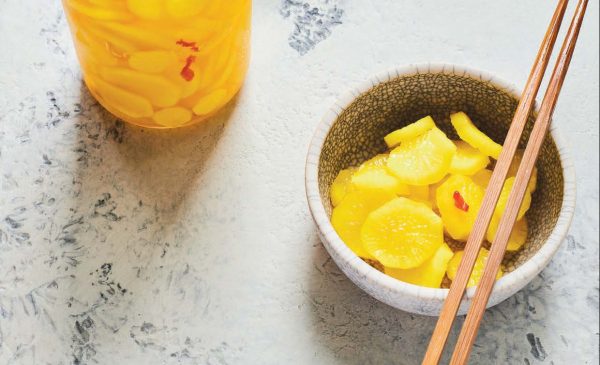 The Spirit of Aloha
In "Aloha Kitchen," Kysar presents her own experience of Hawai'i. Told through family recipes and childhood memories, it's very much a love letter to the foods of her home.
Her recipe for her favorite mochiko chicken, for instance, is her mother's. ("I went through five to eight rounds of trying to make it better, and her recipe is just the best," Kysar admitted.) The salty-sweet, rice flour-battered fried morsels take her back to her childhood every time, she writes.
Her manapua, Hawai'i's take on Chinese char siu buns, are inspired by the giant ones from her favorite O'ahu Chinatown spot. Her chicken katsu borrows a secret from her elementary-school best friend and next-door neighbor's father.
In the realm of sweets, there's rainbow-colored shave ice, like the cups filled with mochi balls and "always ice cream on the bottom" she ate every Sunday after hula performances; and even li hing gummy bears, the candies coated in the salty-sour-sweet dried plum powder ubiquitous in grocery stores across Hawai'i.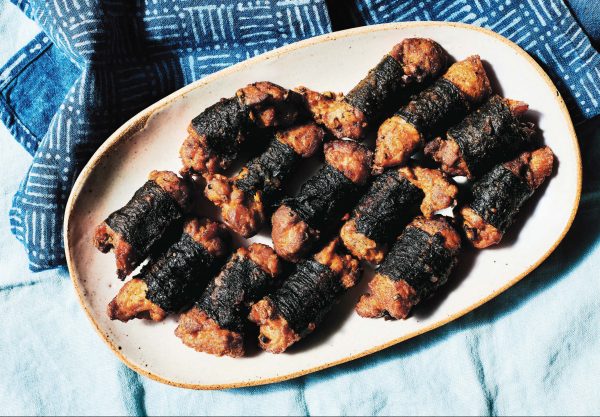 The recipes are rooted in time and place—but Kysar hopes to share them with home cooks far beyond.
"I wanted to make [local Hawai'i food] more approachable," she said, "to take this thing that people think is so unattainable, because it's so far away, and show them how to make these recipes anywhere."
Steps like swapping a traditional imu for a roasting pan and liquid smoke to make kalua pig, or offering chard as an alternative to taro leaves for wrapping lau lau, put seemingly aspirational dishes in much closer reach. For saimin, Hawai'i's iconic, plantation-era noodle soup, she takes home cooks step-by-step through hand-making the distinct style of noodles, should the packaged variety be difficult to source.
It all works toward the goal of "bringing people into the fold of this wonderful, amazing cuisine that I just think hasn't been fully explored in the rest of the world," Kysar said. In the end, "I really hope to just spread as much aloha as possible."
RECIPE: Mac Salad
RECIPE: Mochiko Chicken
RECIPE: Takuan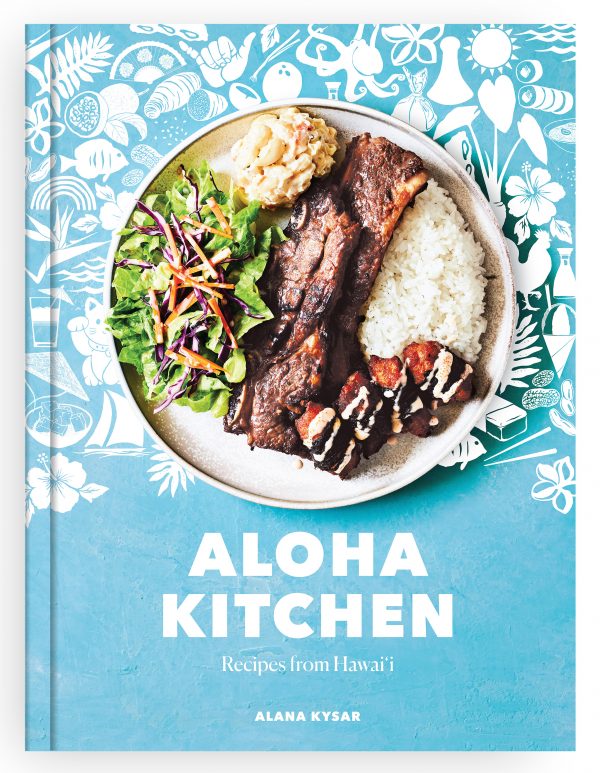 https://www.theepochtimes.com/the-aloha-plate-what-is-local-hawaii-food_2845252.html